India's Best & Advanced Digital Marketing Certification Program
Become a Certified Paid Ads Specialist
Become a specialist at running all kinds of paid advertisements on Google and other social networking sites such as Facebook, Instagram, Twitter, LinkedIn, etc. Paid Ads are a great way of reaching out to millions of potential customers.
PROGRAM LEARNING OUTCOMES AND CONTENT
Under this paid ads certification, you will learn a number of concepts that will help you create attractive, more efficient PPC ads on Google, Bing, and other established social networking websites such as Facebook, Instagram, and Twitter.
What you will Get in CIIM?
Chandigarh Institute of Internet Marketing (CIIM) is a pioneer in the field of digital marketing since 2010. We are a Google Premier Partner with an expert team of trainers that have coached over 12,000 individuals. Our course curriculum comes loaded with many benefits and features that are hard to find these days. Here are a few key features of our courses:
Meet our panel of expert trainers, who will be your support pillars during the training. All of them have over 10 years of professional experience in the field of digital marketing.

Surjeet Thakur
Digital Marketing Trainer
The founder of CIIM, Surjeet Thakur has professional experience of over 15 years in digital marketing.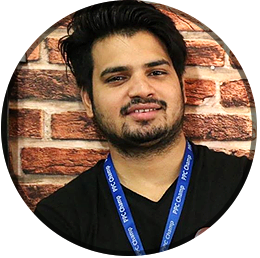 Mukesh Kumar
Digital Marketing Trainer
Mukesh has a penchant for Pay-Per-Click (PPC) ad campaigns, funnel Creation and Affiliate Marketing.

Ravinder Singh
Digital Marketing Trainer
When it comes to best white hat SEO techniques, no one can match the expertise of Ravinder Singh
Rakesh Jain
Digital Marketing Trainer
Rakesh Jain has been training digital marketing aspirants for the last 18 years & have vast knowledge.

Bobby Singh
Digital Marketing Trainer
Social Media Marketing (SMM) is Bobby's first love. His spouse comes second!

Rahul Sharma
Digital Marketing Trainer

Gagan Kumar
Web Designing Trainer

Raghav Nehra
Content Writing Trainer

Pankaj Kumar
WordPress
Trainer

Kritika Dhiman
Graphic Designing Trainer
What Our Trainees Have To Say
We have trained more than 12,000 digital marketing aspirants so far and the figure is witnessing a huge surge with time. Here's what they feel about CIIM, our trainers, the quality of our courses, and their journey with us.
Globally Recognized Certification
Over 12,000 Aspirants have Trusted CIIM to Achieve Progress in their Careers.
Of our diploma program, students have found our course immensely useful.
Of our diploma holders have found their dream digital marketing job without any hassle.
Of our diploma holders found our trainers to be 'extremely' helpful.
Over 12,000+ Trainees trust CIIM to power up their careers.
CIIM has 12,000+ members and alumni across the globe. Besides, learning the latest in digital marketing, you'll be joining a network of thousands of members and graduates with the same passion for this fascinating, modern-day discipline.

640+ 5 Stars Student Reviews

500+ 5 Star Student Reviews

1300+ 5 Star Video Reviews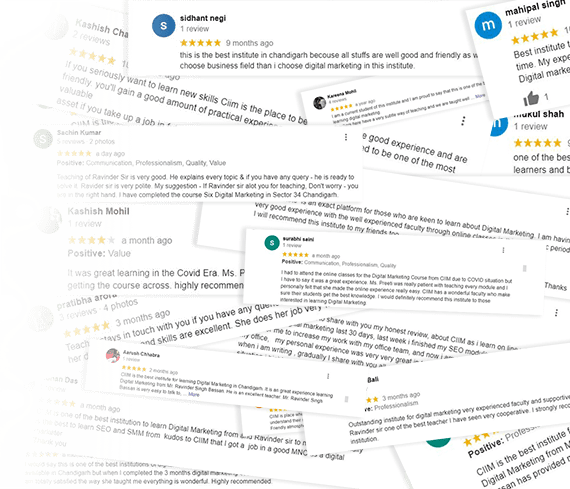 Frequently Asked Questions