Digital Marketing Training for Hotels & Restaurant
Digital Marketing Training for Hotels & Restaurant – Looking for a top-notch Digital Marketing Course for Restaurants and Hotels? CIIM offers specialized Digital Marketing Training for Hotels and Restaurant business.
Do you want to ensure you have an online presence that rocks, rather than an expensive website that doesn't perform? I've seen many expensive websites that don't have the basics, and don't track any of the metrics that matter. The problem is most developers and designers are not digital marketers.
If you want best of breed digital marketing, or just want to know where you can improve.
Did you Know, Every hour 200,000 people search for a restaurant on Google. Are they finding yours?
If yes, then question comes in you mind…How my business on google searches or top google rankings?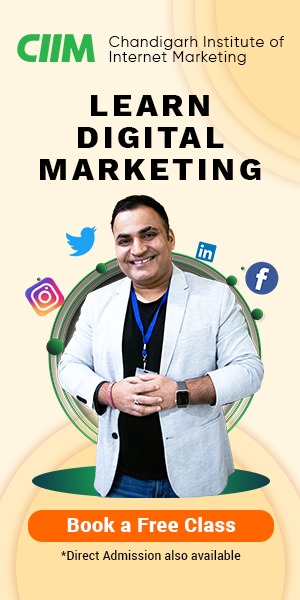 The Answer is this with the help you to learn Digital Marketing.
A complete Digital Marketing Course for hoteliers & restaurant to take your hotel business to the next level. Strategic management of brand image and reputation through the several social media platforms. Our in-office talent team delivers the best SEO, SEM, and PPC to boost online visibility and ranking.
Reach your target audience and grab a business by just doing nothing. Our Digital Marketing experts will do all the required for your business. From Content Marketing to Adwords, we take care of your business in all the aspects. A perfect Digital Marketing for hotels Strategy to generate leads across all online and offline platforms.
Description
Do you need more customers for your restaurant, cafe, food stall or hotel? Do you want to learn the fundamentals of digital marketing so you can get more customers for free?
If so, Digital Marketing for Restaurants is the course for you.
Join CIIM Institute – Enroll Today @7347392745
I'll take you step-by-step through the process of building a website, using Google My Business, creating Facebook pages, running Facebook ads, using Trip Advisor, building a mailing list and more.
Why wait? Click "Book a Free Demo Class" button to get started now.
We're sure you will love the course. But in case you don't, it comes with a 30-day money back guarantee. Try it at no risk to you.
Who this course is for:
Owners, managers and staff
Restaurants, cafes, food stalls and hotels
How is Digital Marketing Useful for Hotel & Restaurant Business
Some of the major advantages of digital marketing for the food industry are as follows:
Brand recognition and identity
Effective digital marketing can help you in maintaining the identity, reliability, and credibility of your brand that would engage and attract potential customers.
Increasing conversion rates
A properly executed digital marketing strategy can help in driving the desired traffic and generate new bookings and get positive customer reviews which in turn generate good revenues.
A powerful online presence of your hotel and restaurant business will build strong followers of loyal customers and distribute positive feedback about your brand.
The main and most important point is to understand that digital marketing is not an optional task, especially for a hotel or restaurant business. Digital marketing not only offers an opportunity to expand and grow, but it also allows you to manage your business with detailed analysis of your customers.
Through digital marketing you can:
Identify the behavior of your targeted audience
Fix goals and objectives of your business
Generate new leads
Increase walk-in customers
Manage your bookings and reservation
Get the real-time report of your campaign
and much more
CIIM No.1 Digital Marketing Institute in Chandigarh. Our team of Digital Marketing Experts can help you to learn and building brand reputation, loyal customers, table reservations, positive feedback and reviews for your food business.
Modules Covered As Part Of The Digital Marketing Course For Hotels And Resorts Business:
Inbound Marketing Strategy For Hotels Industry
Content Marketing Strategy For Hostels Industry
Business Specific Website Design and Development
Search Engine Optimisation For Hotel and Resorts Website
Search Engine Marketing For Hotel and Resorts Website
Competitor Analysis
Social Media Marketing Strategies To Acquire New Customers
Brand Building Through Online Reputation Management
Customer Relationship Through Email Marketing
Integrating Payment Methods
Benefits to Join Digital Marketing Course for Hotels & Restaurant
Quality Class Room Training
Industry Specific Curriculum
Doubt Classes to Enhance Skills
100% Job Placement Assurance
Contact Details for Online Marketing Course for Pharma Companies
Name: CIIM – Chandigarh Institute of Internet Marketing
Address: SCO 54,55, 3rd Floor, Sector 34-A, Chandigarh
Phone Number: +91-9878873446