Why MBA Students Should Take Up Digital Marketing Course
Why MBA students should take up digital marketing – A Master's degree in Business Administration (MBA) is an achievement in itself. However, even an MBA degree in today's world isn't a guarantee to well-paying, respectable job opportunities – simply because times have changed, while we are still stuck with conventional degrees, learning methods and mindset. It is high time that we reflected on the fast changing world of technology and marketing, or else we too shall become a victim of unemployment, financial stress and overall poor quality of life.
Traditional Marketing vs Digital Marketing
Before heading on to the benefits of taking up a digital marketing course as an MBA, let's first take a look at the major differences between the modes of the two models.
Traditional Marketing
Print media (newspapers, brochures, pamphlets, magazine ads, etc.)

Broadcast media (TV commercials, Radio ads)

Direct mail (post cards, product catalogues, calendars, greeting mails)

Telemarketing (Cold calling, promotional SMS)
Digital Marketing
Websites and blogs

Social media ads

Google ads

Banner ads

Video Marketing
Now, as an MBA, it is imperative for you to know how digital marketing is superior to the traditional form of marketing:
Cost effective –

Advertisers who have a low budget find it hard to turn to TV or magazine ads. As a result, they resort to digital ads such Google ads and other social media ads
Higher ROI –

Carefully targeted digital ads provide leads and customers at a very pocket-friendly price. As

a result, businesses enjoy a higher ROI
Better user-engagement –

Newspaper and magazine ads do not get our attention as easily as a Facebook or Instagram ad, courtesy of eye-catching graphics and content.

Track real-time results –

Print media ads take a long time to make a noticeable impact. Moreover, you can't keep a track of the exact source from which your leads and customers are coming, especially if you are using multiple advertisement methods. With digital marketing, however, you can keep a real-time track of all your leads and the money being utilized out of you budge

t.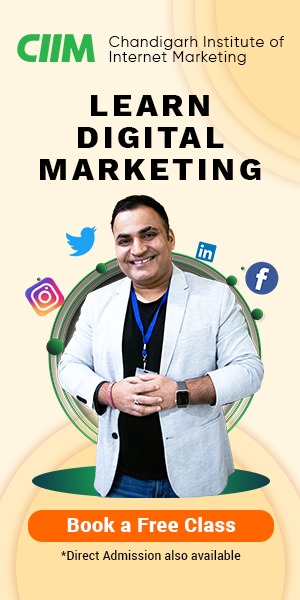 Now let's take a look at a few reasons why every MBA – regardless of whether they have a marketing degree or not – should take up an advanced digital marketing certification course:
Better Job Opportunities
Since almost every business is now online, there has been a huge surge in the demand of skilled and experienced digital marketers over the last few years, especially for those who have an expertise in PPC ads, SMM ads and Ecommerce marketing. There are an ample number of digital marketing opportunities in both medium and large scale enterprises.
Amazing salary and incentives
Since there is a huge gap between the demand and supply of quality digital marketers, the salary prospect is more promising as compared to what you may get with an MBA degree alone. In terms of incentives too, digital marketing firms reward their dedicated performers every now and then.
Gain complete marketing skills in just 3
-6
months
An MBA degree takes 2 years to complete and even then it may not completely secure your future. A comprehensive digital marketing course takes just 3-6 months and yet guarantees good prospects for the future. Together, they make a great combination, opening a gateway of diverse opportunities for every individual.
Get more practical exposure
When you were done with your MBA, did you realize that you had gained mere theoretical knowledge that didn't do any good to you? If yes, then here is a chance
to apply that theoretical knowledge to the modern-day digital marketing ad campaigns. Once you are done with the course, you'll learn practical ways to get more conversions from a very tight budget and resources.
Fully-revised curriculum to meet the changing demands of the industry
With new tools and technologies emerging every year, it is sometimes difficult to keep up with the latest developments. As a result, we continuously update the class curriculum for all our courses. This helps us ensure that each student gains all the skills that are currently in demand in the industry.
Flexible schedules make grasping concepts easier
If, as an MBA, you are already working full-time and doubt whether you'd be able to manage the time and effort required to take up a digital marketing diploma or advanced certification, then you are living with a wrong belief. Digital marketing courses don't eat much of your daily hours – even if you feel so you can always opt for online classes, such as the ones that CIIM provides, or you can also opt-in for weekly classes and make use of just 2 hours of your Saturday and Sundays.
Set up your own business
Once your course is complete, you will have the advantage of both traditional and digital marketing skills at your disposal. With such a goldmine of knowledge, you can set up your own marketing firm and operate right from your home, if renting a workplace isn't feasible. All you need to start is a computer, and a good internet connection. As you continue to grow, you can hire more staff and take your operations large scale.
Affordable courses
When the future is at stake, no amount of fee appears high; however, with digital marketing courses, you need not worry about the course. For instance, at CIIM we also offer easy EMI (instalment) options for all our short and long courses, which make learning both interesting and pocket-friendly.
The Bottom Line
So there you have it folks! We hope that you have now got a fair idea as to why an MBA degree alone in today's time of cut-throat competition is not enough, especially in the post coronavirus world, where all businesses are taking their operations fully online.
Therefore, having an expertise in digital marketing has now become a necessity for all MBA graduates whether they already have a job or not. If, as an MBA, you too are thinking to enrol in one of our digital marketing courses, feel free to get in touch

with our counsellors via the contact numbers mentioned on the website. They will provide you with complete guidance that will lead to the foundation of a secure future.