What's the future Scope of digital marketing in India?
Future of digital marketing in India? –  Digital Marketing is a booming career option today in India. With striking features like cost-effectiveness, instant response, flexibility, convenience, effectiveness, Digital Marketing is making a strong impact in the world of Marketing and Advertising. The future scope of the Digital Marketing industry is that there will be more points of contact.
Right from the day of assuming power, Digital India and Make in India have been two big USPs of Prime Minister Narendra Modi.
Growth of Internet Users
What is Digital Marketing?
It's easy, simple and less costly than traditional marketing and is much more effective since you can reach others through a convenient channel in their mobiles and hand-held devices. With change in technology.
Digital Marketing Trends to watch in 2020-21
Artificial Intelligence (AI), Machine Learning is transforming the way business run today
Voice Search, Voice Assistance like Amazon Alexa, Google Home is growing at a rapid phase 
Voice shopping is changing the way we shop: Imagine ordering a product without seeing it. It's unbelievable.
Technical skills are one of the most wanted skills for Digital marketing
Recently Google announced major changes to its advertising platform. Google Ads now adds AI artificial intelligence to its ad platform
We are living in a mobile-first to the mobile-only world, where people expect your websites to load faster and they want information whenever and wherever they are. AMP (Accelerated Mobile Pages) project from Google designed to make really fast mobile pages
Voice assistants like Alexa, Google Home, Cortana. Alexa skills, Google Actions are part of Digital Marketing
Customer Centric Approach, Customer-centric marketing backed with Data/Insights will help understand the customers better
Social Media is already part of our day to day life
User experience, the design is something every marketer should know
Personalized Searches will dominate as our mobile, assistance are all integrated with our personal devices. Every experience to be tailored just for them. Mobile searches for "——– for me" has grown over 60 % in the last 2 years:
Content is the core of digital marketer in 2018, and moving forward Customized Personalized Content will dominate
Growth of Digital Marketing
Digital Marketing Industry is worth $68 billion! Also, according to eMarketer, Last year, advertising via mobile phones and tablets rose 200 percent, to $6 billion. This market is estimated to touch $7.8 billion soon. This rise is leading for high demand for professionals skilled in Digital Marketing.
While all other industries are struggling with a growth rate of 5 to 10 %, digital media industry is booming high with 40% growth rate. But the most remarkable point is that this growth rate is not going to be stagnant in the coming years.
Scope of Digital Marketing in India
If you asking from the career aspect or from the sales aspect, the answer is YES (We are biased, please check naukri's data or econsultancy data, it will say the same). Check the ad shows, it is shifting more towards Digital Marketing Ideas. It is not a replaced for TV or Radio, neither it is replaced for print medium. It is a different medium available for marketers.
The major shift in Digital Marketing Scope:
From anonymity to identity: Now people are on web with full identity, this is enabling businesses to interact with more data, better targeting.
From Information to entertainment
Digital Marketing Major Topics & Syllabus:
SEO: Search Engine Optimization is an organic (unpaid) method of improving the ranking of web pages and their visibility on various search engines such as Google, Yahoo, Bing, etc. Optimizing webpages is a very vital aspect of Digital Marketing.
SEM: Another method of increasing the visibility of webpages is through sponsored placements and advertising. SEM specialists should know how to run PPC campaigns, how to purchase traffic through paid search listing to maximize visibility of web pages on search engines.
SMM: Social Media Marketing is gaining a lot of popularity with social media sites like Facebook, Twitter, LinkedIn, Pinterest and others. A good digital marketer should know how to harness the power of social media to market the brand image of the company.
Email Marketing: As it is important to engage your customers and leads with your brand, many organizations send periodic newsletters, email campaigns, autoresponders to its subscribers in order to keep them updated with new products/services added or anything worth sharing.
Mobile Marketing: More and more people are going mobile. Smartphones have become very trendy among all age groups. Mobile marketing provides instant updates, promo offers and information of customers' interests. A person needs to be a mobile freak to get into mobile marketing.
Web Analytics: Web Analytics is a very interesting aspect of digital marketing which involves traffic analysis, business and market research and enhancing the website traffic. For instance, Google Analytics gives a great insight into how your website is working.
How much will I Earn?
So here comes the answer to the most anticipated question. The salary majorly depends on the type of organization and your role. Here, we give you a general idea as to what you can expect.
| Role | Salary in Rupees |
| --- | --- |
| Digital Marketing Manager | 4 lakhs to 10 lakhs |
| SEO Manager | 3 lakhs to 7 lakhs |
| SEM/PPC expert | 3 lakhs to 5 lakhs |
| Web developer/designer | 3 lakhs to 6 lakhs |
| Social Media Manager | 3.5 lakhs to 7 lakhs |
| Content Writer | 2.5 lakhs to 5 lakhs |
The way we look at Digital Marketing is:
Quick Sales from Digital Marketing
Branding for Sales (Need deep pocket, right positioning and messaging). Branding has a new definition, it is no more about going big bang, it can also be about selected branding options.
Organic Growth for Sales: Where it goes as an investment first and then the returns are regular.
What is the future scope of the Digital Marketing industry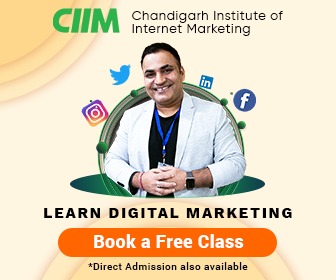 Indian scenario: Digital marketing is still at its initial phase in India. Most of the companies are still thinking to adopt the medium while many top brands have already rolled their digital marketing campaign. Seeing the large number of youth population in India(More than 40% of total population of India, around 460 millions youth is there, in which 333 millions are literate) and the rising technology savvy young generation, corporate will be more than happy to engage the target audience and spread their products & services among them via digital media. Thus there will be a Big Change in coming future.
About Digital Markting
Digital marketing is a booming industry. You will have to work with the analytical part of a website. You need to implement the latest SEO, PPC and CRO strategy. You have to track the visitors and implement the strategy according to the need of the project. You have to do all the client handling and the reporting.
This will open a new door for Digital Marketers to not only run display ads online, but also offline which the consumers will be able to interact with using their mobile phones.
Digital is the communication technology used to market a message. It includes computers, smartphones, cellphones, tables, game consoles. And it uses platforms like websites, email, apps, and social networks.
Marketing is a process. It's ultimate purpose is to communicate the value of a product or service to people to such a level that the people want to purchase the product or service – or at least, are interested in learning more about the product or service.
The basics of marketing will never change because it involves telling the story of a brand to people. Culture, society, gender, demographics are all environmental and should be a vital part of all marketing efforts – but it still boils down to getting a message in front of people. The message must appear where the target market/ideal customer is already looking.
Digital Marketing Market Scenario
However, before we go ahead with anything else let's have a sneak peek to the market scenario at present.
The world of marketing has seen a great revolution in past few years whether it is advertising, promotion or sales. Even those who were unsure of the potential of digital marketing in the last decade have now dived into this ocean of opportunities offered by the internet. Unlike, television marketing when your target audiences were reached only during the prime time, digital marketing allows you to connect with your customer almost anytime and the entire credit goes to the internet and mobile devices. The way people are getting smartphones and tablets for anything and everything, it is apparent that demand for digital marketers will only increase in the coming the time.
Internet & Mobile– Some Facts and Figures:
As per a recent study, although internet penetration in India is yet to cross 16% of the population, however in absolute numbers this percentage works out to nearly 10 times the population of Australia.
According to a recent report released by IAMAI and IMRB, internet penetration in India has crossed the 200 million mark by October 2013. Besides, it is estimated that there will around 243 million internet users in the country by June 2014, leaving behind the US as the world's second largest internet base after China.
Moreover, India has 110 million mobile internet users of which 25 million are in rural India. Of this 5 million internet users in rural India 70% access the web via mobile phones.
Not just that India with more than 82 million monthly active Facebook users spots the third position in the world after the US and Canada and it is expected that that the country will have the world's largest Facebook population by 2016.
Digital Marketing will remain as the most powerful way of Marketing in the future. Some of my observations on the changing trend of digital marketing are
People have started looking for more interesting and informative things on the internet that can help them create value rather than fake and made for marketing type things, hence marketing strategies will move towards creating those kind of assets.
Marketing objectives will try to help people get better in their business through one's own business. Creating and maintaining a network of people who are interested in one's business will be given priority.
As always, 'content' will be the most important aspect of digital marketing and again the nature of the content is going to be more specific and deeply researched about a topic, moving away from the perspective of "Selling" to making it more useful for the audience.
General techniques like SEO, SEM and Social Media Marketing will be there. However, personalized marketing activities targeting specific set of audience and influencers will be given higher importance.
Automation in marketing will emerge more effectively and will be predominant in future.
Scope for digital marketers in India will only get bigger and better in the years to come. You might feel the need to know as to why is this so and in fact there is nothing wrong in researching something before you dive into it. This is why we have done a research and have come up with some facts and figures that will help you decide the worth of digital marketing before it is too late.
General course contents of Modern Digital Marketing
This entry-level course gives an overview of Digital Marketing, including planning a website, website promotion, email and Search Engine Optimization (SEO) campaigns, e-commerce and integrating digital marketing with traditional marketing. It provides a practical framework to develop customized digital marketing programs and is designed for marketers, managers, and individuals who want to take advantage of new marketing techniques.
The advance modules include Social media marketing, Paid Search etc. The interactive digital media industry relies heavily on customer engagement. This customer engagement is driven by a multiple tactics viz., advanced SEO, PPC, Online Display, Social Media, e-Mail & Mobile Marketing. Each one of the tactics needs to be planned and executed in an integrated approach.
How this course makes you a complete internet marketing professional
Digital Marketing Fundamentals
Website Planning, Designing & Creation
Search Engine Optimization (10 Days)
Search Engine Marketing (SEM/PPC)
Social Media Marketing
Affiliate Marketing
Online Reputation Management
Geo Targeting- International Targeting
E-Commerce.
Content Marketing & Management
Web Analytics
Video Marketing
Email Marketing
Fundamental of Adsense
WordPress/Blogging
Mobile Marketing
Earn Money as Freelancer
WORKING 
PROFESSIONALS
Professionals who seek to improve the performance of their digital marketing campaigns. Who want to ready themeselves for new role as Digital Marketer.
INDIVIDUALS 
BEGINNERS
Individuals / beginners seeking career opportunities in the digital marketing domain. Entrepreneurs or affiliate marketers who want to use digital media to improve their business performance. Students with a management or engineering background.
MARKETING
PROFESSIONALS
Marketing professionals who use digital marketing to meet their objectives. Professionals in marketing/ publishing/ e-business/advertising.
WEB
MARKETERS
Web marketers who want to enhance their professional prospects in the marketing domain. IT professionals who want to expand their career horizon.
What skills do you need for Digital Marketing:
If you'd like to excel in the field of digital marketing, then you need to possess some skills. These skills are supposed to stand you out of the rest. There are a certain set of skills that you need to inculcate in yourself to put yourself in a better position in this field. Let's take a look at what these skills are.
Aware of the trends
Good understanding of audience and know what sells
Specific marketing expertise
Content writing skills
Ability to manage tools and technology
Interactive skills
Sales skill
A blend of creativity and analytical abilities
Basic design skills
Politeness and patience

Contact – 09915337448 , email: info@ciim.in
Live  Project Training + 15 Certifications + 100% Job
call for free demo class today – 7347392745, 9878375376