How AdWords account structured?
How AdWords account structured?  – It's no secret that organization is an essential ingredient for success, and AdWords is no exception. Before you begin creating your campaigns and ads, it's important to learn how AdWords is structured to help you create effective campaigns that target the right audience.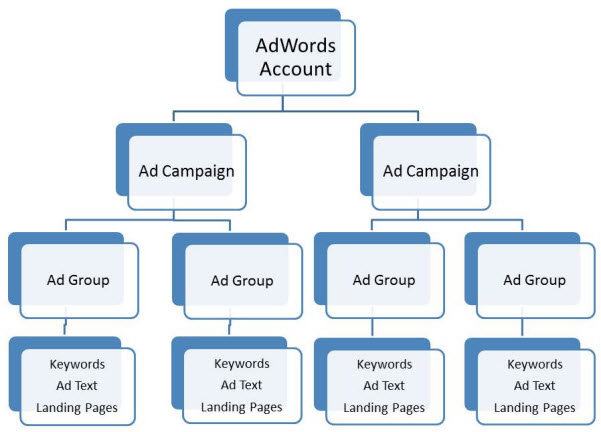 AdWords is organized into three layers: account, campaigns, and ad groups.
Your account is associated with a unique email address, password, and billing information.
Your ad campaign has its own budget and settings that determine where your ads appear.
Your ad group contains a set of similar ads and the words and phrases, known as keywords, that you want to trigger your ads to show.
Account
Unique email and password
Billing information
Campaign

Campaign

Budget
Settings

Budget
Settings
Ad Group

Ad Group

Ad Group

Ad Group

Ads
Keywords

Ads
Keywords

Ads
Keywords

Ads
Keywords
Help your ads reach the right people by understanding your customers
Before you create your first ad campaign, take the time to build a mental profile of the customers you're trying to reach. Considering your customers' preferences, habits, and traits can help you choose the right settings for your campaign.
Important areas to consider about your customers' preferences and behavior
Words and phrases they use to search online: If you run a furniture store, think about the keywords that your potential customers might use to search for furniture. Would they use general search terms like "furniture" or "furniture store"? It's more likely that a customer would use more specific terms based on what they're looking for, such as "buy sectional sofa" or "dining room chairs." These words and phrases can help you determine the keywords to trigger your ads to display in search results.
Geographical location: Think about where your potential customers are. If you only offer furniture delivery to customers in your city, then you should limit your campaign's location targeting to your city so only potential customers in your city will see your ad. This helps make sure that you only pay for clicks on your ads from people who live in your delivery area and can purchase your furniture.
How they contact you: Consider how you want your customers to get in touch with you. If you want them to come to your store in person, you can highlight location information in your ads. Or maybe you'd like them to call you or fill out a contact form online. You can add these and other options to your ad with ad extensions.
Learn about these and other campaign settings in the Understanding your campaign settings section.
How much you want to spend
Once you understand who your customers are, think about how much you want to spend to reach them with your ads, and what results you're expecting for your campaign to be a success.
AdWords lets you set an average daily budget for each campaign based on your advertising goals and the general amount you're comfortable spending each day. Get tips on setting a campaign budget.