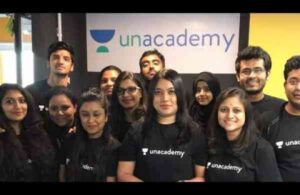 Unacademy Marketing Strategy and Case Study – The Indian online learning space has seen a rapid growth in the post-COVID times. Such a staggering growth in the number of users though would be hard to imagine, had it not been for the deadly coronavirus outbreak that has brought the entire world on its knees.
Unacademy, an online education hub which is known for its wide variety of courses for competitive exam preparation, too has gained immensely from the situation, so much so that the platform now has more than 30 million registered users and 350,000 paying subscribers. In this case study, we will take a good look at the journey of Unacademy, its marketing strategies and the funding received to reach where it is today.
Table of Contents:
Who founded Unacademy?
Unacademy started out as a YouTube channel in the year 2010. Five years later, it was developed into an online portal for educators and new-age learners. This was achieved with the combined effort of 4 co-founders- Gaurav Munjal, Hemesh Singh, Roman Saini and Sachin Gupta.
History of Unacademy
Unacademy was started as a YouTube Channel by Gaurav Munjal just for the sake of exploring a new hobby. During those days, Munjal, who was pursuing engineering, gave coding lessons in Java through his channel. The channel was a hit and Munjal also became one of the most followed people on question-and-answer website Quora, where he extensively wrote answers to questions on computer science.
In 2015, with the help of the other co-founders mentioned above, Munjal registered Unacademy as a brand under the parent firm Sorting Hat Technologies Pvt. Ltd. The portal offered free classes during the first 3 years of its operation and started a subscription model only in 2019.
What does Unacademy offer?
Unacademy offers a wide variety of courses developed by more than 18,000 teachers. The course curriculum covers the syllabus of classes 10+2 and other competition exams such as JEE, NEET, UPSC, SSC, Bank PO, CAT, GATE, etc.
The platform offers the courses in the form of both live classes and pre-recorded videos. Every fourth class of the week is dedicated to addressing students' doubts. Interestingly, Unacademy is now offering classes in pastry-making and chess as well.
Unacademy Funding
Unacademy is now a part of the prestigious Unicorn club, which means that the company has surpassed the valuation of $1 billion. In fact, it was Gaurav Munjal's dream to achieve this milestone before turning 30. Notably, the company became a unicorn club member just 6 days before his 30th birthday.
Let's take a look at the various funding rounds that have taken place so far:
January 2017

: Raised $4.5 million in a funding round led by Blume Ventures and

Nexus Venture Partners

.

September 2017

: Raised $11.5 million in Series B funding

led by Sequoia India and SAIF Partners

.

July 2018

: Raised a combined $21 million from Sequoia India, SAIF Partners and NEXUS Investment Partners.

February 2020

: Raised

a combined

$110 million from Facebook, Blume Ventures, Nexus Ventures, Flipkart CEO Kalyan Krishnamurthy, and private equity company General Atlantic.

September 2020

: Raised $150 million through Soft B

ank Group led funding which saw all existing investors participate

November 2020

: Raised an undisclosed amount from Tiger Global and surpassed the valuation of $2 million.
Unacademy Marketing Strategy
As part of its aggressive marketing strategy, Unacademy makes extensive use of digital marketing (Google, Social Media and OTT platforms such as Netflix, Amazon Prime, etc.), TV commercials, Radio, and out-of-home (OOH) advertising methods such as billboards.
While digital marketing and OTT platforms are the top revenue generators in tier-1 cities, TV and OOH methods of promotion bring in more leads in smaller towns. The company doesn't like to spend much on newspaper ads.
Unacademy Business Model
Unacademy follows a freemium business model. In simple terms, Unacademy offers some of its basic services for free and charges a subscription-fee for its high-quality content. The pre-recorded classes are free of cost; while, the live, interactive sessions with top experts are paid.
Unacademy Acquisitions
Unacademy has acquired a number of startups in its journey so far. Here's a complete list of its acquisitions:
2018
Acquired WifiStudy, a YouTube-based exam preparation channel, for $10 million.
2020
Acquired

Kreatryx

to expand Gate and ESE preparation services

Acquired Mumbai-based programming platform named

CodeChef

in June

Bought

Prepladder

, a Gurugram based online coaching platform, for $50 million in July

Acquired majority stake in

Mastree

– a K-12 Learning platform –

for $5 million In July

Bought

Coursavy

, an online UPSC preparation test portal, in September

Acquired Delhi-NCR based

Neostencil

, a startup dedicated to government- exam preparation, in December
2021
Acquired majority stake in technology firm TapChief in February
Witnessing huge growth in April 2020
The first complete month of nationwide lockdown due to coronavirus turned out to be a huge success for all online learning platforms. Unacademy too was no exception. Here are a few Unacademy stats from the month of April, 2020:
82% growth in revenue from the preceding month (March)

The highest ever views on YouTube- 165 million

1,20,000 live classes conducted

2,64,000 tests were taken up by learners (

247% higher than March)
Famous personalities Virat Kohli, Anushka Sharma and Shashi Tharoor participated in live classes. These sessions were watched live by more than 50,000 learners
When Unacademy was attacked by hackers
In May 2020 when Unacademy was riding high on its overnight gains, it also had to bear the consequences of a vicious cyber attack. As many as 11 million user accounts were compromised, the information of which was later allegedly sold on dark web. In an official statement, Unacademy confirmed the breach, while also asserting that no sensitive information was compromised.
Reportedly, the attackers claimed on dark web that they had access to the entire Unacademy database, but they decided to leak only the user data at the moment.
Partnership with Sachin Tendulkar
Master Blaster Sachin Tendulkar signed a multi-layer deal with Unacademy in February of 2021. The former cricketer will serve as the brand ambassador for the platform and also offer interactive master classes. Notably, Sachin has also picked up a small stake in the company.
Conclusion
The war among major Indian online learning platforms is getting intense with each passing day. Most of this is because of the fact that students are restricted to their homes and can't step out safely owing to the coronavirus pandemic.
Other similar players such as BYJU's and Vedantu are moving ahead with an aggressive marketing strategy too. If you look closely, you will see how these brands  
invest a lot on their digital marketing campaigns to just get leads, which they are sure to convert into long-term customers – thanks to their highly trained sales executives.
Read More